Utah
Utah RV Travel Destinations
In our travels, we have been very fortunate to be able to visit many beautiful and interesting areas of the United States.  Below is a list of national and state parks, museums, railroad excursions and other attractions in Utah we recommend visiting.  Cities and towns listed with brackets [ ] were our base camps where we stayed and left our motorhome to visit the local attractions using our tow vehicle.  We have also included, if applicable, our recommended RV parks and any restaurants we particularly liked in these areas.   As RV parks, attractions and restaurants can change owners and/or management, we cannot guarantee the same level of food/service/accommodations as we experienced so please check current reviews and recommendations.
Check love-to-rv.com often as we will be adding other destinations as I research back into my journals from previous trips and as we continue to travel and find new and interesting places to go.
Moab, Utah
Moab was our base camp as we explored Arches National Park, Canyonlands National Park, Dead Horse Point State Park and the other attractions in and around Moab. There are some great 4 wheel drives in the area and we went on the Onion Creek drive where you cross the Onion Creek 27 times (yes, there was water in the creek). You'll be rewarded with wonderful views and a sense of adventure for completing this drive. Also, take a drive down Route 128 where you can view the Colorado river as it runs near the road. There are many businesses in town offering whitewater rafting down the Colorado River. We highly recommend taking one of the rafting trips. The rapids are not that turbulent.
√ Recommended RV Park: Portal RV Resort www.portalrvresort.com/index.htm Even though they are more expensive, we would recommend the sites in the south section where you will have access to the pool. These lots are concrete and large.
√ Recommended Restaurants: Red Cliffs Lodge www.redcliffslodge.com/ If you are in the Moab area on a Sunday, definitely eat the Red Cliffs Lodge for their Sunday Buffet. After you have gorged yourself on the wonderful buffet, head downstairs to the Movie Museum www.redcliffslodge.com/museum/ . Many movies have been made in the beautiful Moab area.
Arches National Park, Moab, UT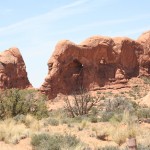 Elephant Shaped Rock Formation Arches NP
[Moab, UT]- www.nps.gov/arch/ – "Arches National Park preserves over 2,000 natural sandstone arches, like the world-famous Delicate Arch, as well as many other unusual rock formations. In some areas, the forces of nature have exposed millions of years of geologic history. The extraordinary features of the park create a landscape of contrasting colors, landforms and textures that is unlike any other in the world."
Canyonlands National Park, Moab, UT
[Moab, UT] –
www.nps.gov/cany/
We only visited the Island in The Sky portion of Canyonlands. At Island In The Sky, you will be greeted by breathtaking views of the canyons.
Dead Horse Point State Park, Moab, UT [Moab, UT] – www.utah.com/stateparks/dead_horse.htm "Before the turn of the century, mustang herds ran wild on the mesas near Dead Horse Point. The unique promontory provided a natural corral into which the horses were driven by cowboys. The only escape was through a narrow, 30-yard neck of land controlled by fencing. Mustangs were then roped and broken, with the better ones being kept for personal use or sold to eastern markets. Unwanted culls of "broomtails" were left behind to find their way off the Point. According to one legend, a band of broomtails was left corralled on the Point. The gate was supposedly left open so the horses could return to the open range. For some unknown reason, the mustangs remained on the Point. There they died of thirst within sight of the Colorado River, 2,000 feet below."
Red Cliffs Lodge Movie Museum Moab, UT [Moab, UT] – www.redcliffslodge.com/museum/ Many movies have been made in the beautiful Moab, UT area. The basement of the Red Cliffs Lodge is home to a wonderful movie museum full of movie memorabilia. According to their website, "In the late 40s the legendary John Ford discovered the rugged beauty of Moab's Canyonlands and filmed the 1st of many movies here. The first major motion pictures filmed in the Moab area were set on the Red Cliff's Ranch. Wagon Master, Rio Grande, Son of Chochise, Warlock, Commancheros, Cheyenne Autumn, and many more used the ranch and it's magnificent scenery for filming. John Wayne, Maureen O'Hara, Ben Johnson, Rock Hudson, Henry Fonda, Anthony Quinn, Lee Marvin, Richard Widmark, James Stewart, and Richard Boone have all worked on location here at the Red Cliff's Ranch. More recently Geronimo, City Slickers, Thelma & Louise, along with other movies and over 100 commercials have all used the Moab area as a location."
Bryce Canyon National Park, Bryce Canyon, UT – www.nps.gov/brca/ – Bryce Canyon is known for its Hoodoos.  They have been described as "grotesque, eerie and often whimsical".   These red rock formations are fascinating geological structures.
Cedar Breaks National Monument, Cedar City, UT – www.nps.gov/cebr/ – "Resting on top of the Colorado plateau, at over 10,000 feet in elevation, this breathtaking view awaits. Millions of years of sedimentation, uplift, and erosion are carving out this giant amphitheater, that spans some three miles, and is more than 2000 feet deep."   We actually enjoyed Cedar Breaks National Monument the best between Zion National Park and Bryce Canyon.  Cedar Breaks offers spectacular views.
Coral Pink Sand Dunes State Park, Outside of Kanab, UT – www.utah.com/stateparks/coral_pink.htm  Coral Pink Sand Dunes State Park is a beautiful park and so unusual with its coral pink sand dunes.  But as you look at the red rocks in the area, it explains the creation of the pink sand.  It can be added as a site to see on a tour of Zion National Park/Cedar Breaks National Monument/Bryce Canyon National Park.  The park is situated outside of Kanab, UT.
Zion National Park, Springdale, UT – www.nps.gov/zion/  "Massive canyon walls ascend toward a brilliant blue sky. To experience Zion, you need to walk among the towering cliffs, or challenge your courage in a small narrow canyon. These unique sandstone cliffs range in color from cream, to pink, to red. They could be described as sand castles crowning desert canyons."  Zion National Park has a tunnel that requires an escort "…for all vehicles and trailers 7'10" (2.4 m) in width and/or 11'4″ (3.4 m) in height or larger".  There is an additional fee for the escort service.